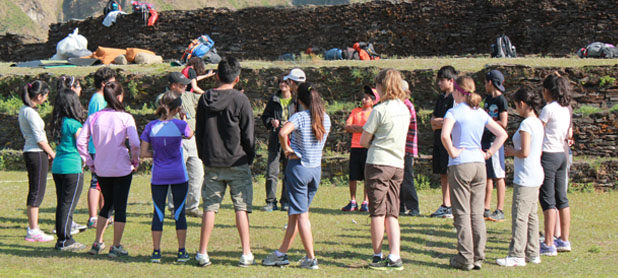 School Programs
The Borderlands PDP are based on School Programs and experience to enhance School and Youth Leadership Programs for School and College Students which also promotes Cross Cultural Communication Skillshas, which in consultation with many international organizations, developed Nepal's premier Leadership Development Programs (LDP) and has a well established national and international client base who have already benefitted immensely from our LDPs . These courses are unique in Nepal and we use a wide range of adventure activities and outdoor learning as tools to help foster an experience that will broaden the student's educational base and stay with them for a very long time. The Borderlands offers the students a wealth of support, activities and resources, which can turn their adventure in Nepal into a real educational experience. A growing number of international schools / colleges and organizations are establishing partnership with the Borderlands PDP to undertake custom-designed courses in adventure education.
The aims of these programs are to help course members develop both socially and academically in a unique and safe outdoor learning environment. There is a strong emphasis on developing personal, inter-personal and team work skills. Activities are designed to be multi-faceted, educational and challenging either physically or mentally. Common course themes include problem solving and team building skills, cross cultural interaction, community service, and leadership development. Outdoor Learning is truely incredible. These courses are truly unique to Nepal and we use a wide range of games & initiatives and adventure activities as tools to help foster an experience that bases itself in one of the world's truly magical natural setting, the border of Tibet and Nepal. Our instructors are skilled, dedicated and caring outdoor educators with a broad range of personal and professional experience.
Increasing cross cultural interaction.
School Programs through Outdoor Learning experience at The Borderlands Eco-Adventure Center
Providing an insight into the rural lives of the Nepalese people.
Providing geographical, ecological and geological studies – river studies, rock identification, field sketching, mapping and basic surveying, flora and fauna identification, nature walks, local topography and geomorphology.
Increasing individual and group working skills/ workshops – feedback, teamwork and roles, communication, leadership, presentation and listening skills.
Initiative exercises – fun problem solving activities to encourage creative thinking, communication, team work, coordination and planning.
Providing cultural tours through the Sherpa and Tamang Villages.
Through the various games and initiatives in School Programs through Outdoor Learning, the Borderlands LDP thrives to impart experiential learning that will teach various social and academic skills that the students can take back to their school and home. All our programs are tailored to meet the requirements of the school's educational program and the ability of the students.